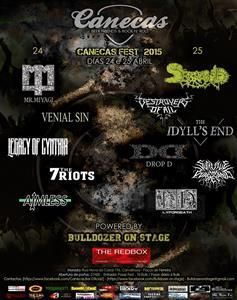 O Canecas Fest 2015
decorre no Canecas Bar, em Carvalhosa (Paços de Ferreira) nos próximos dias 24 e 25 de Abril. Venial Sin e Serrabulho constituem a representação transmontana do certame. Se os
deathsters
progressivos actuam na primeira noite, ao lado de Aimless, The 7Riots, Legacy of Cynthia e Mr. Miyagi, os
grinders
fecham o festival, depois das actuações de Destroyers of All, The Idylls's End, Drop D, Survive the Wasteland e Lyfordeath.
Os concertos de dia 24 iniciam-se pelas 21:45h e, no dia seguinte, as actividades terão início pelas 21h. Em ambos os dias, as portas abrirão pelas 21h.
O bilhete diário custa 6€ e o passe geral vale 10€.
24.04.15 - Mr. Miyagi + Venial Sin + Legacy of Cynthia + The 7Riots + Aimless - Canecas Fest 2015, Canecas Bar, Carvalhosa, Paços de Ferreira - 21:45h
25.04.15 - Serrabulho + Destroyers of All + The Idylls's End + Drop D + Survive the Wasteland + Lyfordeath - Canecas Fest 2015, Canecas Bar, Carvalhosa, Paços de Ferreira - 21h