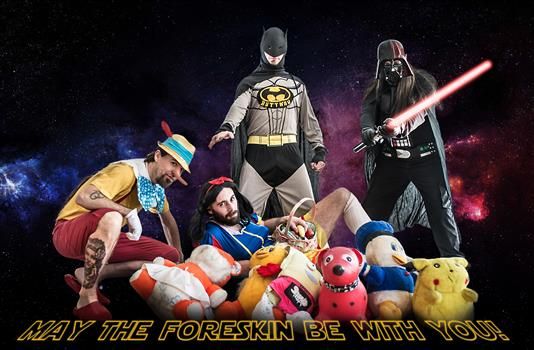 Ainda com a fase final das misturas de Star Whores a decorrer, os grinders vila-realenses acabam de divulgar a sua mais recente fotografia, bem como o alinhamento do disco:
1. Pornocchio
2. Congro
3. Buttman
4. Pentilhoni nu Culhoni
6. Peidinho Ron Ron
7. Star Whores
8. Testicular Torsion
9. Vaseline
10. Life of a Penis
11. Caguei na Betoneira
12. B.O.O.B.S. [Best Objects of Baby Sucking]
13. Snow White and the Seven Dwarfs [Gang Bang Edition]
As gravações de Star Whores iniciaram-se no passado dia 9 de Janeiro, nos Blind & Lost Studios (Santa Marta de Penaguião), estando a edição do disco – a cargo da editora alemã Rotten Roll Rex - prevista para as próximas semanas.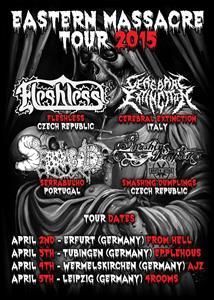 No próximo dia 2 de Abril, os Serrabulho iniciam uma mini-tournée alemã, ao lado dos grupos checos Fleshless e Smashing Dumplings, que os levará a Erfurt, Tubingen, Wermelskirchen e Leipzig. Além destes concertos iniciais, a banda vai embarcar numa extensa jornada de promoção ao novo CD, com participações já confirmadas em concertos pontuais e festivais em Portugal, Espanha e Alemanha. Eis a lista completa:
02.04.15 - Club from Hell, Erfurt, Bindersleben, Alemanha – c/ Fleshless [CZ] + Smashing Dumplings [CZ]
03.04.15 - Blastphemy Springfeast, Epplehaus, Tübingen, Alemanha – c/ Fleshless [CZ] + Cerebral Extinction [IT] + Whoresnation [FR] + Smashing Dumplings [CZ] + Deforeskination [DE] + Pestilent Reign [DE]
04.04.15 -Ajz Bahndamm, Wermelskirchen, Alemanha – c/ Cerebral Extinction [IT] + Fleshless [CZ] + Smashing Dumplings [CZ] + Obsolete Incarnation [NO] + Bleeding Heaven [NO]
05.04.15 - 4rooms, Leipzig, Alemanha – c/ Cerebral Extinction [IT] + Fleshless + Smashing Dumplings

06.04.15 - TBA, Alemanha

07.04.15 - TBA, Alemanha
18.04.15 - Ink n' Roll, Centro Cultural do Bairro de Santa Maria, Vila Real – c/ Terror Empire + Destroyers of All
25.04.15 - Canecas Fest 2015, Canecas Bar, Carvalhosa, Paços de Ferreira – c/ Destroyers of All + The Idylls's End + Drop D + Survive the Wasteland + Lyfordeath
16.05.15 - Montecore Fest, Pavilhão de Exposições e Feiras, Montemor-O-Novo – c/ Holocausto Canibal + Basement Torture Killings [UK] + Switchtense + For the Glory + Primal Attack + Crossed Fire + Evil Impulse [ES] + Push + Irae + Challenge + Extreme Retaliation + Gennoma + Diabolical Mental State + Iodine + Taberna + Gatos Pingados
21.05.15 - TreBARuna, Lamego – c/ Kadaverficker [DE]
22.05.15 - Cave 45, Porto – c/ Kadaverficker [DE] + Happy Farm
23.05.15 - Brutologos Fest XI, Nave At.Mosh.Phera Zero, Palencia, Espanha – c/ GutRot [FR] + Kadaverficker [DE] + Twice the Trauma [UK] + Grinder Bueno [FR] + Prisoner 639 [UK/BE] + Criminal Mind [ES] + Shit Fucking Shit [IT] + Nothing Clean [UK] + TBA
24.05.15 - Sentinel Rock Club, Erandio, Biscaia, Espanha – c/ Kadaverficker + Kamorräh [ES] + Mutilated Judge [ES]
25.05.15 - Frenopátiko, Vigo, Espanha – c/ Kadaverficker [DE] + Strangled With Guts [ES]
13.06.15 - Ranger Rock, Brand, Bayern, Alemanha – c/ Benighted [FR] + Rectal Smegma [NL] + Jig Ai [CZ] + Braincasket [NL] + Epicardiectomy [CZ] + VxPxOxAxAxWxAxMxC [AT] + Urinal Tribunal [DE] + Chordotomy [DE] + Incinerated Flesh [DE] + Goregonzola [DE] + Kadaverficker [DE] + Sucking Leech [DE] + Boiler [DE] + Katatonie [DE] + Undying Lust for Cadaverous Molestation [DE]
10.10.15 – Sachazo Grindfest II, Transylvania Pub, Vigo, Espanha – c/ Gorgásmico Pornoblastoma + Wisdom [ES] + Analepsy + Moñigo [ES]
22/23.01.16 - XXXapada na Tromba - Freak n' Grind Fest - RCA Club, Lisboa – c/ Lividity [USA] + Dead Infection [PL] + Rotten Sound [FI] + Grog + Rato Rato [ES] + Gronibard [FR] + R.D.B. + Bleeding Display + Guineapig [IT] + Epicardiectomy [CZ] + Dead Meat + Ultimo Mondo Cannibale [IT] + Analepsy + Clitgore [RO] + Extreme Retaliation + Shoryuken + Vagina Grotesca